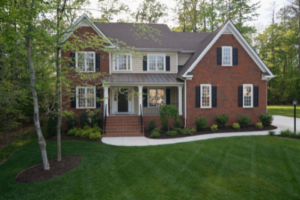 The combination of low interest rates and rising property values may be leading you to consider refinancing your home. Whether you should do so depends on several factors.
Why Refinance?
Here are four benefits to refinancing:
1. Lowering Your Interest Rate and/or Your Monthly Payment
Reducing your interest rate can provide significant long-term savings, especially if your current rate is high or if you have a significant balance remaining on your loan. However, a lower interest rate does not necessarily mean a lower monthly payment. Combining a lower interest rate with a shorter payoff period may cause your monthly payments to increase.
2. Reducing the Number of Years Remaining on Your Loan
Refinancing from a longer-term loan to a shorter-term loan will reduce your payoff time and save you on interest expense, especially if you are refinancing to a significantly lower interest rate. For example, refinancing a $200,000 loan with 27 years remaining at a 4% interest rate to 15-year loan at 2.75% would save you over $80,000 in interest expense over the life of the loan.
3. Getting Rid of Private Mortgage Insurance (PMI)
You typically pay PMI when your loan-to-value ratio is over 80%. PMI is calculated on a percentage of your mortgage balance. A common PMI rate would be around 1%, meaning PMI on a $200,000 loan may be adding over $150/month to your mortgage payment. If your home value has increased, refinancing can eliminate your PMI if the loan-to-value ratio of the new loan is below 80%.
4. Cashing Out Equity
The recent increase in property values has made this an especially attractive option. Many people use the cash to pay off other debt, to finance home improvements or to provide cash for other expenses, such as college tuition. It is important to remember that while cashing out equity provides immediate options, it will often result in more interest expense paid, since the refinanced loan will carry a higher balance. Refinancing to cash out equity can also be a bad habit to fall into, especially if the proceeds are being used to pay off consumer debt that is likely to be run up again shortly after it is paid off. It's also important to remember that interest paid on the cash out portion of the loan is not deductible unless it's used for home improvements. If you use the cash out for both home improvements and other purposes, you will need to keep track of the amounts and provide this information to your tax preparer.
What Should I Consider When Deciding to Refinance?
1. Closing Costs
Costs associated with a refinance can vary widely. Some loans require closing costs to be paid out of pocket at closing, while other loans will roll the closing costs into the balance of the new loan. Shop around to make sure you're getting a good deal.
2. Break-Even Point of the Refinance
Your break-even point is calculated by determining how long it will take for the interest expense savings to equal the refinancing closing costs. For example, if closing costs on a $100,000 refinance are $5,000 and you are only saving 1% on the new interest rate, it would take five years for the interest expense savings to offset the closing costs. If you were only expecting to be in the home for another three years, refinancing under this scenario would end up costing you more than the interest savings.
3. Personal Budget
Before refinancing, review your monthly budget to make sure the new loan will work for you. It may sound attractive to shave 10-15 years from your loan payoff. But if reducing your term increases your monthly payment by a few hundred dollars, you may find yourself using consumer debt to balance your budget. This would likely end up costing you more in interest over the long run. Refinancing to a longer term to reduce your monthly payment can also seem attractive, but this can lead to more interest expense over the life of the loan, even if the refinanced loan is at a lower rate.